ProShield (1477 Rev6)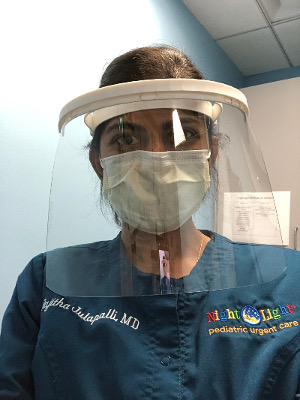 Based on a design released by Prusa', a 3D printer company in the Czech Republic, our version has no openings in the strap that goes across the forehead. This provides greater comfort and does not leave a set of impressions on your forehead. The shield slides into a slot on the 3D printed part (in red) so no holes need to be added to the clear shield for mounting. The headband is a 3D printed part made of PLA, ABS, or PETG. The face shield is 0.03″ polycarbonate. The elastic strap can be made by looping rubber bands or hair ties together. The top of the face shield is open. The 3D printing takes between two and three hours per face shield. Our current capacity is about 60 per day. The cost for materials is between $2 and $5.
grabcad.com/library/proshield-1
RobotShield (148 Rev3)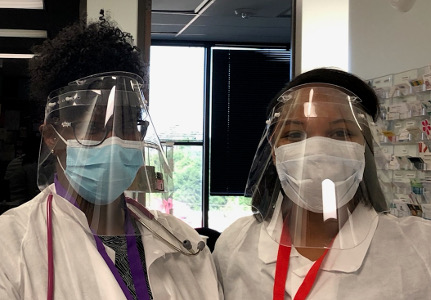 This face shield was designed to be made with no 3D printed parts. We were using a waterjet at NEMA Enclosures in Houston, Texas to cut these. VEX Robotics in Greenville, TX is now stamping these out at a much higher rate, up to 250 per hour. It is made of the same plastic as the clear shield used in the 1477 ProShield. We have a partnership with VEX Robotics that allows us to ask for sets to be shipped to organizations requesting these through our website. You may also purchase these directly from VEX Robotics or request a donation at robotshields.com.
The CAD files for this design are also available on the VEX Robotics website.
 Manta Ray Face Shield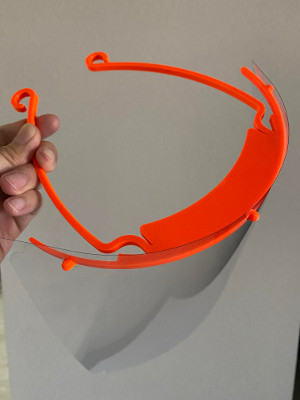 This is a remix by Prusa' of a design by 3DVerkstan in Sweden. The face shield is thinner and more flexible than the two versions above, but more rigid than versions using a sheet protector or transparency film. These are easy to ship and take about half the time of the ProShield to print.
prusaprinters.org/prints/28352-manta-ray-face-shield-prusa-3dverkstan-remix/related
Surgical Mask Ear Lobe Savers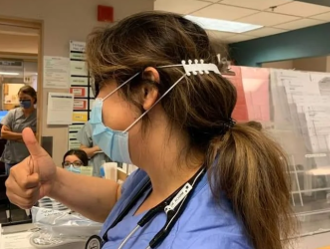 Those pesky straps pulling on your ears all day long can get really annoying. We found this item, SMELS, that hooks to the elastic of a surgical mask to relieve that constant pulling and chafing caused by those straps. Simply indicate you are interested in receiving some of these and some will be included with your face shields. These are made from the last remnants of filament at the end of a spool. Waste not, want not.
Lots of designs available on Thingiverse but you can find this version at thingiverse.com/thing:4249113
Intubation Chamber (IB2000-ST)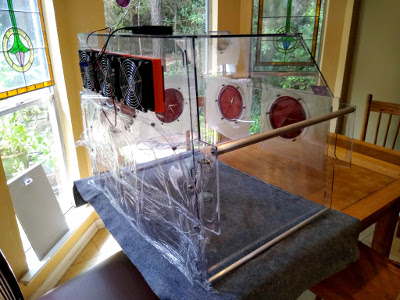 This Intubation Chamber is still a work in progress. The version pictured has three HEPA filters and will run for over two hours before it needs recharging. If you would like more information about free Intubation Chambers, please contact us at team@texastorque.org. You can also complete the request form for PPE and indicate your interest.