What is The Remix?
The Remix is an annual competition hosted by Texas Torque in collaboration with several others in the Houston Robotics Community that allows teams to compete in a rerun of the most recent FRC season. The event serves as a fundraiser, collecting donations for charities such as the Angel Reach program, the Montgomery County Women's Center, and the Texas Children's Hospital. This year, 34 teams from Texas and Mexico will compete in a a game called Charged Up where robots pick up traffic cones and inflated cubes to deliver them to a power grid.
How can I watch it?
The Remix will be hosted on September 23rd and 24th at The Woodlands College Park in The Woodlands, Texas. The event goes from 3 PM to 7 PM on Saturday and 9 AM to 4 PM on Sunday. It is not necessary to be there the entire time, spectators can come and go as they please. Student ambassadors will be offering guided tours of the pits and robotics lab. Admission is also free for all viewers. The address for The Woodlands College Park is below.
College Park High School
3701 College Park Dr
The Woodlands, TX 77384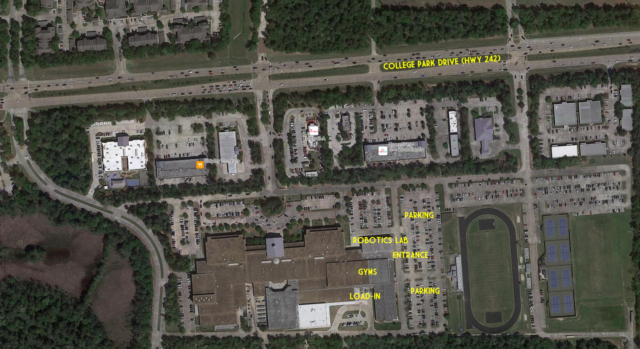 The competition area is on the east end of the school in the gyms. Across from the gyms is our robotics lab, where you can see teams on the practice field. For more information on how to get to the lab, please see here. Anyone interested in watching the event can park anywhere near the robotics lab.
Schedule
Saturday – Event Setup
7:00 AM – Field Setup Continues
Saturday – Competition Day

1:00 PM – Doors Open
–
Team Check In at Pit Administration
3:00 PM – Matches Begin
7:00 PM – Matches End
Sunday – Competition Day
7:30 AM – Doors Open
8:30 AM – Matches Begin
12:00 PM – Alliance Selection
12:30 PM – Lunch Break
1:30 PM – Playoffs Begin
5:00 PM – Award Ceremonies – Field Gym
5:30 PM – Event Tear Down