Blue banners are given out for the highest awards that FRC teams can receive.
The Chairman's Award is given to the team that embodies FIRST's values. It is given to the team that spreads the message of FIRST and focuses on inspiring the youth around the world to becomes leaders. specifically through STEM empowerment.
The Woodie Flower's Award is given to a nominated adult mentor who has done a notable job of motivation through communication while also challenging the students to become the engineers of tomorrow.
The Robotics Winner Award is given to teams that have been on the winning alliance of that competition. While the game changes annually, teams are always competitive in playing these rigorous games.
2011 Season –
>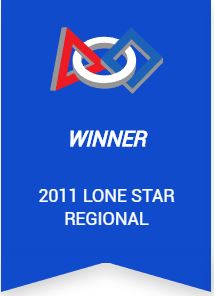 2009 Season –