The Remix is an off-season event in Houston, Texas. For 2023, the event is planned and organized by FRC Team 1477 Texas Torque and 7492 CavBots with lots of help from our friends in the Houston Robotics Community. The event is funded by the registration fees paid by the participating teams. We are collecting new bedding sets for Angel Reach, a program for young people who have aged out of the foster care system. We are also collecting small Lego sets ($10) to take to child patients at a local hospital.
We are capping registration at 36 teams. Alliances will consist of four robots. The top eight teams are not allowed to select each other. The selection sequence will be 1 – 8, 8 – 1, then 1 – 8. Once a team has registered, they will receive an invoice via email for the registration fee.
When:
All qualification and elimination rounds will happen on Saturday, September 23 and Sunday, September 24. Some field setup will start on Friday, September 22 and conclude before matches start Saturday at 3:00 PM. Teams may start load in Saturday at 1:00 PM.
Where:


College Park High School
3701 College Park Dr
The Woodlands, TX 77384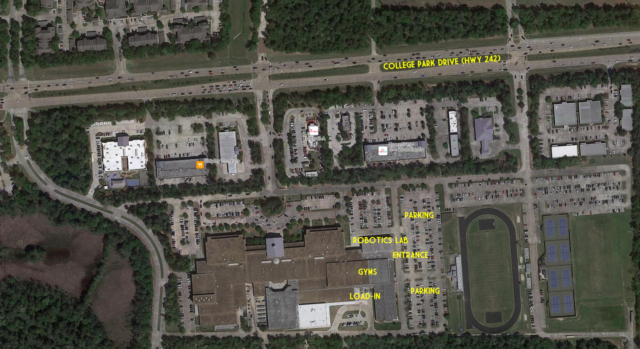 Who:


Most teams come from Texas but we often have teams from other parts of the country and Mexico. All are welcome.
Cost:
$400
*Spectators have free entry*
2023 REMIX EVENT SCHEDULE (Tentative)
Saturday – Event Setup
7:00 AM – Field Setup Continues
Saturday – Competition Day

1:00 PM – Doors Open
–
Team Check In at Pit Administration
3:00 PM – Matches Begin
7:00 PM – Matches End
Sunday – Competition Day
7:30 AM – Doors Open
8:30 AM – Matches Begin
12:00 PM – Alliance Selection
12:30 PM – Lunch Break
1:30 PM – Playoffs Begin
5:00 PM – Award Ceremonies – Field Gym
5:30 PM – Event Tear Down