After a two year hiatus, The Remix was hosted on Saturday, September 24, by FRC Teams 1477 Texas Torque and 7492 CavBots. Thirty-two teams from Texas and Louisiana replayed last season's Rapid React with one notable difference; the top eight teams were not allowed to choose each other as alliance partners. This simple change makes it more difficult for a couple of good teams to team up and the alliances are more balanced.
The finalists in this year's event were teams 118 Robonauts, 2848 Rangers, 7492 CavBots, and 7418 Channelview TechnoFalcons. The alliance struggled in the finals when 7492 had to replace a swerve module.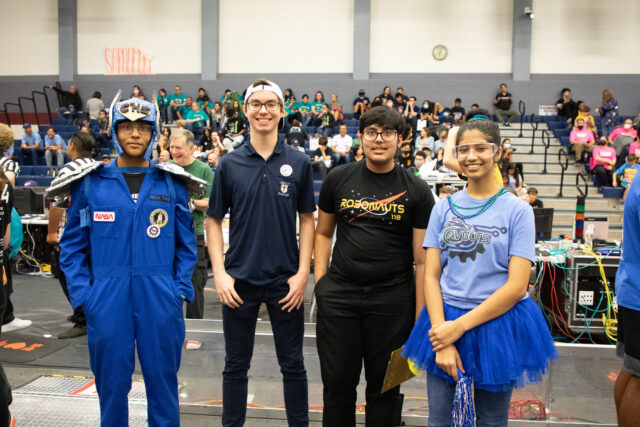 This year's winners were the #1 Seeded Alliance of Teams 624 CRyptonite, 3847 Spectrum, 4587 Jersey Voltage, and 7691 TSA All-Stars.

The goal of The Remix is to provide teams with an opportunity to compete with their new drive teams. It also allows new team members to experience the excitement of a FRC event.
Several charities benefit from The Remix. The Montgomery County Women's Center will be receiving a cash donation from the money left after expenses for the event are paid. Forty Lego sets were donated for Children in local hospitals along with a dozen bed sets for Angel Reach, a non-profit that supports former foster children.