This past weekend, Texas Torque members traveled up to the Lone Star Convention Center for the Sci://Tech Exposition, a yearly convention of science and technology for students in the Conroe Independent School District.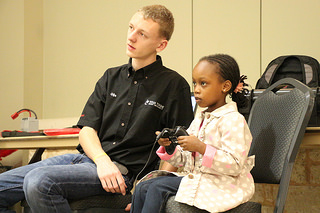 At the event, children from all over the district came together to see our Championship-winning robot, "Sonic," while team members answered questions concerning robot design, engineering, and safety. Adults and children alike were fascinated by the outstanding feats of engineering on display. Rud Merriam, moderator of the website "Mystic Lake Software," had this to say about the team:
This competition is for high-school students and, to be blunt, you have to be impressed by their poise and ability to engage with adults and children about their team and robot.
Through this demonstration, Texas Torque was able to reach hundreds of students in the district, thus continuing to spread the principles of STEM throughout the greater Houston area. The event was undeniably an enjoyable experience for both team members and spectators, and we hope to return next year to hopefully reach an even greater audience.