Medical personnel and facilities across the country are running low on personal proection equipment, such as face shields and surgical masks. We were contact by local medical professionals about designing and providing a 3D printed face shield. Here is the current 1477 design.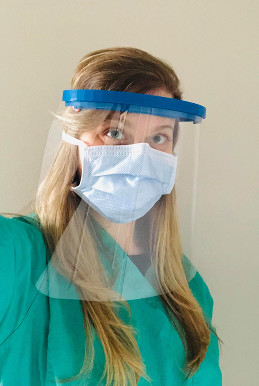 Demand is starting to surge locally. Each masks costs about $2.50. We are also working with FRC Teams 118 (Robonauts) and 148 (Robowranglers) as they also have designs. Those versions have no 3D printed parts but require a water jet or laser cutter.
Mr. Rip has also been contacted by former students (one pictured above) working in the medical field requesting shipments of the 1477 Face Shield. The cost of ten shields plus shipping is approximately $30.
We are currently working with VEX Robotics in Greenville, Texas to get the 148 design waterjet cut by the thousands and i-SOLIDS in Tomball, Texas to help print parts for 1477 version so we can keep up with demand.
If you would like to help, please consider donating using the button below. The money will be used to purchase filament and plastic sheets to make face shields. If the crisis passes and we have funds remaining, those will be used to purchase a 3D printer and filament for the team.
We are looking for other ways to help the local medical community. We know there is demand for N95 filters and surgical masks.