This past week has been one of the most active weeks in Texas Torque's history, with robot tuning, lab organization… and three demonstrations at elementary schools in the Conroe Independent School District.
Team members distributed themselves among the three events at Armstrong Elementary, Anderson Elementary, and Bush Elementary, promoting science and technology at the various presentations. For many of the students, this was their first time getting to see a fully functional robot from Texas Torque; while some of the students remembered seeing our 2012 robot, VelociRiptar, we also presented our 2013 robot, Sonic, at two of the three demonstrations. Our students took great pride in explaining both the functions of our robot and our team to children and parents alike. Even our newest members were able to demonstrate knowledge of our team and FIRST as a whole.
And, of course, our team encouraged all students to join robotics if interested. We advertised FIRST programs to all students, suggesting everything from FIRST Lego League (FLL) to FIRST Robotics Competition (FRC) as a channel for robotics experience. Many were pleasantly surprised to hear of our open membership policy and the range of students who can join Texas Torque in addition to the skill and poise that all volunteer members exhibited.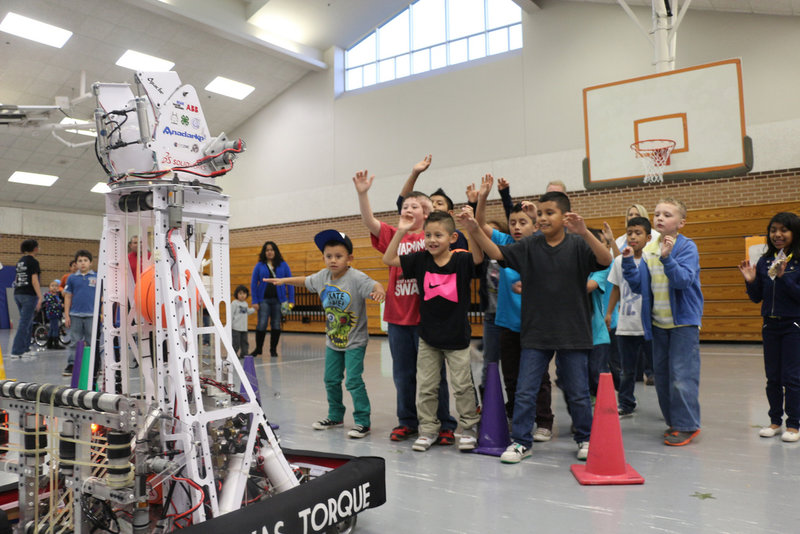 Texas Torque is proud to be such an influential factor in the scientific growth of our community's youth. In the future, we will certainly continue to strive for an even greater impact.