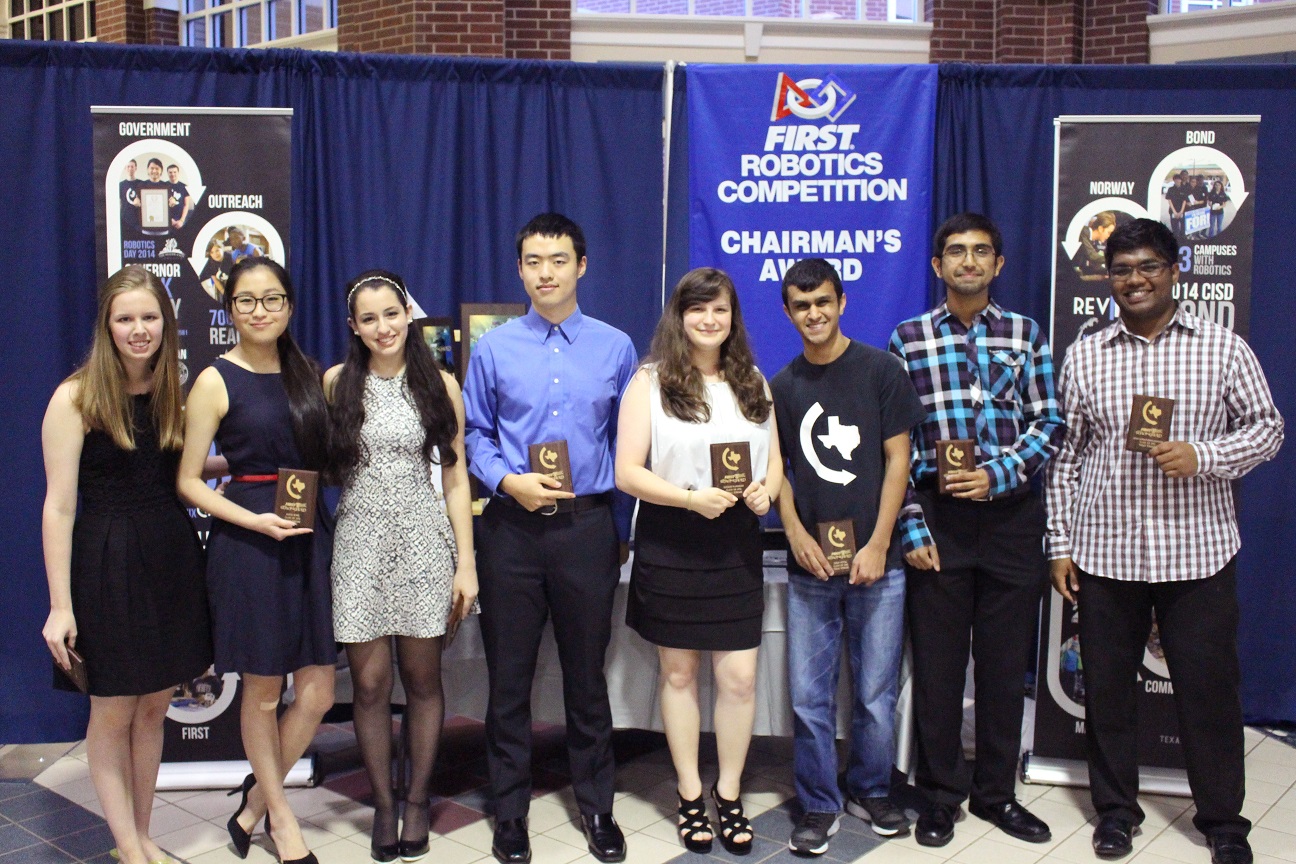 On Saturday, May 28th, Texas Torque gathered at College Park High School to celebrate the success of another season in FIRST Robotics. Amid plates of home-made dishes and cold refreshments, members of Texas Torque young and old came together for one final celebration of the team's accomplishments across the 2016 season. With this year's robot, Impulse, having a dedicated photo stage next to the team's award shelf from this year (featuring the Entrepreneurship, Industrial Safety, and Creativity awards), team members could stop by to pose by the team's award-winning creation.
After the festivities and eating had died down, the time came for the senior members to present their final well-wishes and recollections of time spent on the team. A brief introduction from the team's president began a long line of dedications and thankings, before select seniors delivered speeches. For members and mentors alike, hearing the accomplishments of individual students unfold before an audience of peers and friends set forth a wave of emotion and realization that the season had finally ended, while the seniors' futures were only beginning. It goes without saying that every senior on the team will be dearly missed, but their achievements and roles in shaping the team's success will not be forgotten. To stem this sense of absence, seniors performed a set of "wills" by dedicating a specific cause or characteristic to younger students, so as to keep the chain of skill and knowledge unbroken within the team.
Once the seniors had finished reminiscing, awards were handed out to several members of the team in recognition of their hard work and effort spent in various positions, from drivers to presenters and everything in between. The ceremony reminded everyone present that every member had a role on the team, whether as an ambassador, a volunteer, or part of the pit crew.
At last, the time came to award scholarships. Mr. Landwehr of Subsea 7 presented "Being 7" scholarships to several seniors of the team as recognition of their outstanding excellence in certain fields. Team president and Chairman's Award presenter Reagan Spexarth was awarded the Collaboration scholarship. Others, such as driver and electrical lead Ayesh Sondapperumarachchi and mechanical team member Anurag Chowdhury, received scholarships for Innovation and Integrity. The scholarships for Safety and Performance were given to Lexalee Flanagan and Emily Roth. Mr. Rippetoe, our team's lead mentor, concluded the scholarship presentations by awarding his own scholarship to build captain Shray Mittal in recognition of his contributions to the team. This was accompanied by a well worded thank-you from Mr. Rippetoe, who went on to give a recount of the team's achievements, current standing, and forecast for the future. With his and everyone else's words of hope, the banquet ended, sealing off another successful season for Texas Torque.
(Several students and parents have requested that we share the banquet slideshow on our website. Click here to view or share the slideshow. For more pictures, please visit our Flickr, where we regularly upload photos of team happenings.)